Investment projects with scope: Nithsdale
This heading has a budget of

£85,340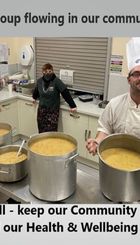 2021-04-08 • admin • Nithsdale
Job Title - Volunteer Development Co-Ordinator 
Amount Requested = £12,000.00 
Summerhill Centre in North West Dumfries needs your vote to help us reduce poverty levels; reduce the cost of living expenses and increase equal opportunities in our communities. We can do this by maintaining and building upon our existing free community food sharing projects, our Health and Wellbeing activities for all ages which include: •    Helping hand to reduce cost of living through our new Community Food Pantry whereby people choose  own food and essential items in a dignified and affordable manner.  •    Provision of healthy and fresh food boxes delivered to our most vulnerable. •    Weekly home made soup for distribution through First Base Food Bank.  •    New skills to prepare healthy homemade meals to take home for all the family. •    Fun youth activities; weekly trips; fitness opportunities; daily support & supper.  •    Community Buddies - adult fitness, home baking kits and wellbeing activities  •    Community Training and First Steps in Digital Connections  •    Environmental skills at our Community Land Art, gardens & food growing allotment 
Summerhill Centre is Dumfries Hub for Fareshare Food Provision. We plan and organise  food from Glasgow Fareshare every Tuesday and Friday to support our many partners who then receive the  food and distribute into our communities.  Our activities are critical to continue tackling poverty with a dignified approach and developing positive routes out of despair.  These are only possible with our army of volunteers who collectively give over 260 hours per week facilitating our many groups and managing the centre.  We need funding to employ our Volunteer and Community Development Co-ordinator. Our work helps to develop each individual to grow and develop strengths and independence to work their way out of poverty.  We also help to develop effective community leaders, regardless of their experiences or circumstances. By the Community – For the Community
Video: https://youtu.be/PAWRC4pgw-I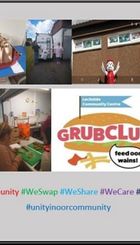 2021-04-08 • admin • Nithsdale
Amount Requested = £15,000.00 
'Grub Club has been a lifeline for my family'.
'Without Grub Club I don't know how we would have survived especially, during the first lockdown'. 
'Karen and the Volunteers are kind; they really do care about us and Grub Club always provides lots of choice and good quality food. Grub Club made me feel better about myself for having to ask for help to feed my children'.  
These are real examples of comments received by LCA trustees from members of our community that have used Grub Club in the past or do so presently.  Grub Club was originally created by funding from Dumfries and Galloway Council's Participatory Budget.  The concept was to help our community combat 'Holiday Hunger' by encouraging and enabling families to access free food, nutritious meals and a variety of activities. A project that is designed and delivered by the community for the community with a focus on welcoming all ages. 
But, without the driving force and commitment from our Project Coordinator/Cook, Grub Club would not be the success that it is. Yet, this is a double-edged sword as sadly the larger Grub Club becomes the greater the need for such a service. The Covid-19 pandemic and subsequent lockdowns has identified more households in need than ever before. We believe Grub Club remains much needed and is vital to help our community recover and thrive. Please give Grub Club your vote and show your support for us to continue to swap, share, care and feed oor weans.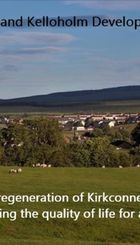 2021-04-08 • admin • Nithsdale
Job Title - Financial and Welfare Support Worker 
Amount Requested = £15,000.00 
Located in the North West periphery of Dumfries and Galloway, the former coalmining community of Kirkconnel and Kelloholm is regarded as remote rural – being over 40 minutes to the nearest large centre of population. 
It is a community that has a low wage economy which continues to suffer the impact of the closure of the coal mining industry and which continues to be regarded as one of the most deprived areas in Dumfries and Galloway.
Access to information and support at a local level is extremely limited with the majority of support services being located in Dumfries. Experience and knowledge of neighbouring coalfield communities has highlighted that many residents are entitled to financial benefits, energy saving schemes and financial services that they are unaware of and/or lack the knowledge and confidence to access.
Kirkconnel and Kelloholm Development Trust, the local community anchor organisation that led on the community resilience plan to support the community deal with the impact of COVID-19 is now planning to open a new Community Health and Well-Being Centre to enhance existing work and create a more holistic approach to supporting the Health and Well-being of residents in Kirkconnel and Kelloholm.
It is to this end that Kirkconnel and Kelloholm Development plan to create a Financial and Well-being Support Worker to help promote and raise awareness of financial benefits and entitlements, energy saving schemes and financial saving/borrowing schemes that we believe local people may be entitled to, as well as support local people access services, either virtually or physically.
Video: https://youtu.be/nR43M7opFWw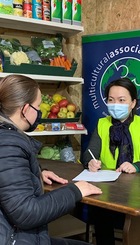 2021-04-08 • admin • Nithsdale
Job Title - Food and Budgeting Co-Ordinator 
Amount Requested = £10,663.00 
Currently, DGMA is accessible to any public member, women, men, families with children, homeless and low-income individuals and families, for people in work poverty, fuel poverty, refugees, asylum seekers, members of Minority Communities, pensioners, over 50s, young people, unpaid carers, and disabled people.  
DGMA with this project, Food and Budgeting Coordinator aims to ensure the people of Nithsdale, especially those in deprived, marginalized, hard to reach, vulnerable, disadvantaged, and seldom heard groups to have their voices heard, and work with them to improve their livelihood, maximize their household income, have improved equal access to healthy food, and access to information and services are maintained.
Video: https://youtu.be/HHanUsiSCAY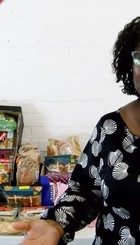 2021-04-08 • admin • Nithsdale
Job Title - Anti-Poverty Outreach Worker      
Amount Requested = £12,000.00 
At River of Life, we've loved helping people through our surplus food drop-in services over the last couple of years. We've always been passionate about meeting practical needs and access to food is the most basic need everyone has. We collect and distribute from Aldi, M&S, Tesco and Lidl stores on a daily basis. Good food that would otherwise be thrown away now supplies vital needs almost 365 days a year!
We've gained a reputation as welcoming, non-institutional and non-judgmental in our approach to anyone who comes to us for help and we've developed precious relationships with hundreds, or even thousands of people.
Through the last year of crisis, we've noticed some important opportunities to help people even more, by helping them find longer term solutions to the difficulties they face.
What we want to do, if successful, is employ an Anti-Poverty Outreach Worker to find loads of other sources of help – financial, skills, work and life skills – to help people build a better life for themselves and their families. Often folk just need to know where to turn and some encouragement that getting out of poverty permanently is possible. 
The outreach worker would come to our drop-in sessions to chat and be available to meet up for coffee with people who want to discuss their opportunities further. They'll be a listening ear with knowledge to help access tangible services and assistance.   Please vote for our project and help lots of ordinary people get out of poverty for good!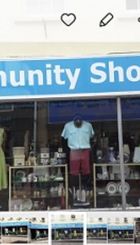 2021-04-08 • admin • Nithsdale
Job Title - Shop Manager Post 
Amount Requested = £15,000.00 
The Community Shop Dumfries & Galloway is a not for profit social enterprise.  Our slogan is " Supported by the community for the benefit of the community " true words spoken. It has been running for 5 years and has helped support many local organisations and hundreds of people in our town. In times of hardship the shop has helped people get through the toughest times , just that bit easier. We know it's appreciated! We have had many volunteers from all walks of life and for a variety of reasons. Working alongside people whom for whatever reason just need a lift , a bit of encouragement.  Having the chance to build up confidence as well as transferable skills and feel good about themselves in a friendly environment. These are key attributes that many people long for to get them to the next stage. Everyone is good at something, it's taking time to find it with people that matters.  The shop is simply like no other, a vital part of the community. A place that frequently guides and signposts people in many ways. A wealth of information for many a real team effort that creates a ripple effect of goodness throughout. Seeing our volunteers grow and progress is a true testament to the dedication  given by many. In addition to our loyal supporters who donate  unwanted goods. Helping us all to reduce waste and landfill and therfore also helping to save our planet. Such a lot of greatness from so many all of which says so much about our town and the people in it. None of which would be possible without the  guidance and planning provided by the dedication of the shop manager.  In such uncertain times the services at the shop are needed more now than ever before.  Like so many places without support and  Funding we will simply not be able to survive. 
YOUR VOTE IS APPRECIATED    THANK YOU.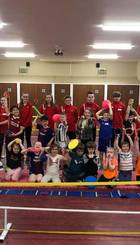 2021-04-08 • admin • Nithsdale
Job Title: Let's Get Sporty Mentor 
Amount Requested: £15,000.00 
Let's Get Sporty is a not for profit social enterprise based in Dumfries & Galloway. We provide young people with training, mentoring and employment opportunities through the delivery of sport & physical activity. In Dumfries & Galloway youth unemployment levels are high and physical activity levels are low - this concerns us. We are focused on improving these with innovative, engaging, quality projects throughout the region.  We provide young people with an individualized training programme focusing on improving their social skills, employability skills and self-confidence. They work with our staff to deliver our sport and physical activity programmes that cater for all ages and abilities throughout the region. We pride ourselves on getting young people to develop in a professional, inspiring environment delivering quality services in their local communities. 
Our new Let's Get Sporty Mentor will aim: 
To ensure Let's Get Sporty continues to meet its aims of delivering physical activity services and training, education & employment to local communities.
To support the directors work in ensuring long term sustainability of the organisation.
To be responsible for Let's Get Employed project activity including volunteers.
To support and develop programmes to facilitate people and work towards their targets 
Continue working on increasing number of volunteers.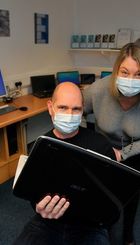 2021-04-06 • admin • Nithsdale
Job Title - IT Support and Recycling Specialist 
Amount Requested = £14,702.32 
As a result of the impact of COVID 19, schools have been closed and children have been accessing learning online.  People can no longer access face to face services in the same way.  It is now more important than ever that people have access to a device and access to the internet.  This may not be possible for those experiencing poverty where the cost of a device can be prohibitive.  Those in working poverty who don't qualify for a device via eligibility for free school meals may be particularly disadvantaged.  Families with more than one child who find it difficult to share a device are also adversely impacted.
We will set up a laptop/tablet/mobile phone recycling system whereby devices donated to The IT Centre by individuals and businesses would then be refurbished to make them useable for school children for their online learning and also those in need.  We will work in partnership with a number of different organisations across Nithsdale to ensure the devices get to those who need them most.  We would wipe old machines and install new operating systems and hardware where required. These devices will be given free to the recipients to keep with ongoing support where required.
Video: https://youtu.be/5SZJEfkcHos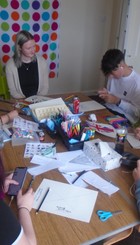 2021-04-08 • admin • Nithsdale
Job Title - Administrative Assistant to support the Bridge to Employment Project (B2E) in Nithsdale/Annandale and Eskdale
Amount Requested = £10,944.00 
Better Lives Partnership (BLP) became a registered SCIO in June 2016 developing a range of opportunities for young people with autism/related disabilities and those who support them.  We want to ensure young people in D&G within this group do not face barriers to fulfilling their potential, are supported/empowered by their families, carers and wider community to live meaningful independent lives.
B2E has shown young autistic people; . Gain accredited qualifications within a safe/supported environment achieving their best outcome. . Have a better chance of employment . Are supported to run their micro-business . Are supported to get a College place. . Have improved health, wellbeing, are more able to cope with everyday situations, live more independently and enabled to support the local Community/economy.
In August 2021 B2E will extend into East of the Region where rurality, isolation limits opportunities for young people to develop social, confidence, employability skills.  Based at The Crichton, Dumfries 12 young people from Nithsdale/Annandale will be supported.  Anticipate - 20+ within year 1. 
In addition to core strands we will offer;  •    'Rural Skills' Course with SRUC (Barony)-the opportunity to learn about jobs in land-based industries.   •    small learning hubs in most rural Upper Nithsdale/Annandale/Eskdale-taking learning to individuals at their point of need.
Funding requested for-B2E Assistant Administrator at The Crichton.  Giving a 'point of contact' in Dumfries and administrative support enabling us to co-ordinate effectively with stakeholders/partners/families and to access  opportunities ensuring that young people across D&G have the best choices/opportunities to achieve their 'next steps'. 
Video: https://youtu.be/BXN2C1VcRos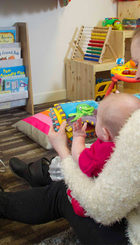 2021-04-08 • admin • Nithsdale
Job Title - Cook for the Community Cafe 
Amount Requested = £9,529.00 
Drawing on our experience of food provision during Covid 19 We feel that it was now more important than ever to offer the resource of a community recovery café. Hence the reason we asked SG to reprovision funds to provide monies for a cook we can only fund 12 hours per week, however we believe the community needs access to the support of the café 5 days per week. Food is a catalyst for bringing people together, we will use the dignity principles to offer additional support to those who access the café/hub area.
From our Fareshare we will provide food for those in need for a short period of time (no more than a 6-week period to establish benefit claims etc. any longer would be creating a dependency) We will offer support re advice opportunities to volunteer, train gain new skills and confidence, support in relation to benefits support to apply for benefits access to computers and internet & financial literacy budgeting support from our partner Your Money Sorted.
With the wrap around support on offer we aim to meet the Anti -poverty objectives 1,2,4.4. If successful in our application we will work with a range of new partners to support we are actively engaging with partners for support in relation to being a training venue & engagement with the college for accreditation for those volunteering in the café.